Sellers
Paul Vyhnalek - Selling CA Houses For More with our 7 Day Blitz
Get Paul's Free Southern California Selling Guide
Request your FREE SELLING GUIDE by clicking HERE. This highly informative package will give you the strategies, techniques, secrets and resources to sell for Top Dollar and in less time. Simply click HERE and get ready to SELL FOR MORE!
Selling For More!

This is an amazing time to sell a home in Southern California. Why? Lot's of pent-up demand right now. In fact, we have buyers looking in the area right now. We maintain a data base of over 4800 potential buyers for our areas. Less inventory pushes the price up for sellers in SoCal.
Historically low interest rates continue to make "now" the right time to make a move. Buyers can afford more which benefits you as seller and you can afford more benefiting you as buyer. A perfect match!
Thinking of selling your California House? If so, be sure to call Paul Vyhnalek today at 909-319-8338
When you list with our team your home will be in front of over 9000 potential buyers and local real estate agents the day it goes live in the MLS.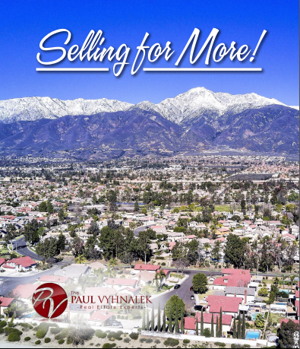 Easy Exit Listing Agreement
We simply do not believe you should be locked into a long term contract with someone you're not comfortable with. You can "fire" us if at any time you don't feel we're doing our very best. YOU are the one in control. No further obligations. We are HIGHLY MOTIVATED to sell your home for Top Dollar, fast! When you list with us we put the pressure on ourselves, not you. We work for you and you have the right to "fire" us at any time if we're not doing our very best to serve you. No questions and no hassles.

5 Point 100% Satisfaction Guarantee
Yes, I said guarantee. Just click HERE to see how serious we are about providing you with superior 5 Star Service. The National Association of Realtors (NAR) report says that the lack of communication is the biggest complaint from sellers and buyers. Well, we answer our phone and if by chance a meeting or important task prevents us from picking up your call, we will ring you back extremely quickly. Your needs and concerns are important to us.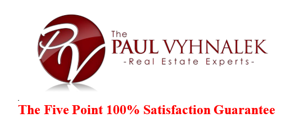 Ask Paul how to net up to 21.6% more when selling!
Wouldn't you like to know the secrets to getting the best price for your property in a market that often has over 50% of sellers doing price reductions to get their home sold? We are going to share these in our free "Selling For More PDF booklet" that has selling tips and strategies that could get you up to 21.6% more money in your pocket when selling your home. This FREE REPORT is all you need to get what you want, in the time you want…SOLD!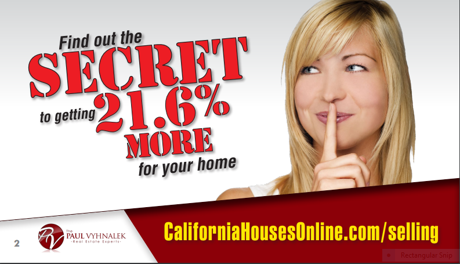 Thinking of Selling? Get Your Instant Home Value Fast & Free
Instant Home Value using the power of technology.
We have the selling secrets and strategies you've been looking for. Call 909-319-8338 today. Let our team of industry professionals strategically position your home in front of more qualified buyers and help you write your very own success story. Go ahead and Take The First Step and get your HOME VALUE FREE INSTANTLY.
Call 909-319-8338 today. Let our team of industry professionals strategically position your home in front of more qualified buyers and help you write your very own success story. Go ahead and Take The First Step and get your HOME VALUE FREE, INSTANTLY.
101 Point Marketing Plan Gets You What You Want...Sold!

Our 101 Point Marketing Plan for homes in Upland, Claremont, Rancho Cucamonga, La Verne and the surrounding areas is a complete system. We role up our sleeves and really go to work for you.
Why do approximately 22.3% of homes in our area fail to sell and over 50% have one or more price reductions? Because they had a weak or inexperienced agent, depended on the 3 "P's" (Put it in the MLS, Put a sign in the yard and Pray that it sells) and that's tragic…
We'll Get The Job Done For You!!!
Our 101 Point Marketing Plan for homes in Southern California sells more homes, for more money, in less time. Inventory remains low and demand is still up. NOW really is the time to sell your home here in our area. We can position your home to sell and sell for top dollar. To sell in less time, request our 101 Point Marketing Plan today. Just click HERE or call Paul at 909-319-8338 now.
Interactive Floor Plans Attract More Qualified Buyers
Prospective Buyers Love Our Custom Interactive Floor Plans, Professional Photography and Property Tours. It enables them to hav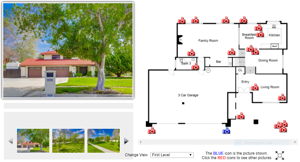 e a visual reference of the property layout. They can imagine their own furniture and personal quality of life belongings such as exercise equipment, craft or hob
by room set up as well as children's rooms and living space.
Want to know the costs involved in selling?
Just click HERE and fill in a few numbers to instantly get an estimate of what it will cost you to sell your home in today's market. Our goal is to NET you more money and we accomplish just that by strategically implementing our systems and treating your money as if it were our own.
We just SOLD another Upland home.
Yes, we just SOLD another home in Upland for top dollar and had it done in five days. Simultaneously helped the same clients find a great single-story Upland home in less than a week. Specializing in Concurrent Closings (Selling a home and buying another and closing escrow at the same time) we worked out all the details, recommended a mover that did a great job, negotiated with the seller of the home they bought and made the transition a breeze.
To Get Your FREE VIP Selling Guide Click >> Here
Paul Vyhnalek's Proven Success
Sold in 10 Days For 10% Above Market Average with Multiple Offers
This was the second home we sold for these clients. They were VERY pleased and put an extra $48,500 dollars in they're pock
et after expenses.
1475 W. 24th
Sold in 14 Days at FULL Price with Multiple Offers

In the heart of Upland off of 17th st, this home was in the family for many years. When a parent passed away a bit of upgrading needed to be done and the home brought a great price.
1694 Shamrock
Sold in 8 Days at FULL Price with Multiple Offers
After 40 years in the home and a lifetime of raising a wonderful family these clients decided it was time for a condo and a change in life style. They were great to work with and we orchestrated concurrent closings so they could move
smoothly from one home to the next.
872 S. Fenimore

Sold in 3 Days All Cash at 9% Above Market Average with Multiple Offers
Two "Average" agents told these clients the most they could get was $550,000 and after implementing our "7 Day Blitz" campaign and complete seller systems the home was SOLD for $618,750.
1825 Pepperdale

Sold In 15 Days Above List Price with Multiple Offers
When these folks told us what they we're hoping to get for their home, we recommended a price significantly higher,,,and got it for them while they were on vacation in Hawaii. Now they are happily retired and living in a great home in Las Vegas.
7633 Coral Court
Sold in 5 Days For 103.6% of Appraised Value with Multiple Offers
Less than 1% of agents in America are Certified Negotiation Experts. Expect Nothing Less Than A Professional Working On Your Behalf.
Beautiful hardwood floors and attention to every detail made this older home show amazingly well. When all offers we're in, the seller wanted to accept the highest which was quite a bit over appraisal so we negotiated with the buyer to make up the difference in cash. Needless to say, the seller was very pleased.
. Louise Ave
Sold in 5 Days for ABOVE List Price with Multiple Offers
We often have the privilege of working with an out of state seller. We had sold a home for the husbands mother (She is a really nice lady BTW) and I had never met either of them because both live in Texas. We handled the rehab after about ten years of tenants, staged the home and had it SOLD at a great price with 5 days on the market.
11050 Kenyon
Sold in 4 Days Above List Price with Multiple Offers
These clients we're fun to work with. They kept saying we're going to interview multiple agents but choose us. Not only did we sell the house for more than they thought it would sell for and in less time but we had the privilege of helping them find an amazing replacement home to.
11996 Rue Way
Ask us for references any time. We have permission to give you all of these amazing clients phone numbers if you're seriously considering making a move.